Most Americans have lost their power at one point or another. Here are the top-five states with the longest average power outages, and a few power outage preparedness tips for you and your family. 
After a long day at the office, many Americans relax by watching TV… watching over 2.5 hours of TV to be exact 1. But imagine coming home to no power. How would you spend your free time? 
Being without power is a very real possibly for most Americans. According to the U.S. Energy Information Administration's Annual Electric Power Industry Report, every state in the U.S. experienced a power outage in 2017. While the average U.S. power outage lasts over seven hours, residents of the following five states experienced power outages lasting at least twice that long: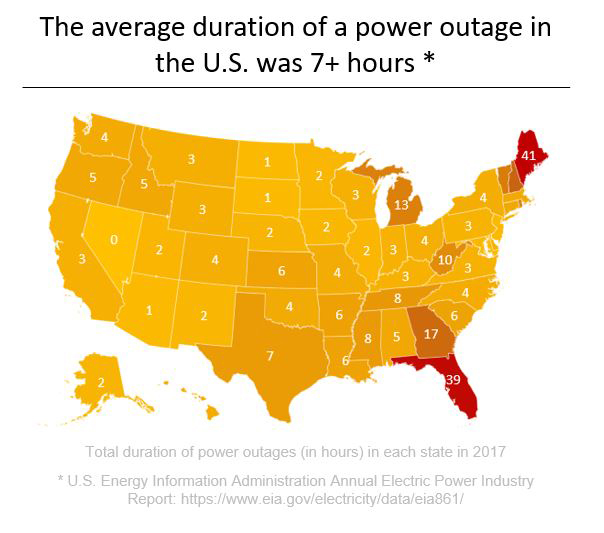 Maine: Maine led the nation in length and frequency of power outages 2, with average power outage lasting 40 hours. While severe weather, winter storms in Maine's case, was the leading cause of these outages, the slower than expected pace of the local utility company to restore service caused a public outcry. 
Florida: It is said that wherever you are in Florida you are less than 60 miles away from ocean. While Floridians and visitors enjoy the sand, sea and sun, they also experience more hurricanes than any other state. In fact, about a quarter of all hurricanes that hit the U.S. Mainland hit Florida. In 2017, category 4 Hurricane Irma hit Cudjoe Key and left 7.7 million people in the state without power at some point. 
New Hampshire: Mount Washington peaks at 6,288 ft and offers breath taking scenes for viewers whether it is summer or winter. But if you plan to visit the Granite State in the winter, consider packing a flashlight and comfort items in case of a power outage. In October 2017, a winter storm left one third of New Hampshire without electricity for several hours to days 3. 
Georgia: With more than 10 million residents and one of world's busiest airports, Georgia consumes more electricity than most other states and has more to lose if faced with power outages. Yet Georgia residents experienced an average of 17 hours without power in 2017, partially due to Hurricane Irma leaving more than a million residents in the dark. 
Vermont: Forests and snow, two things most of us imagine thinking of Vermont. Vermont gets lots of snow, more than 80 inches per year to be accurate 4, and is one of the most heavily forested states. A combination of dense forests and heavy snowfall makes falling tree limbs a key reason for power outages averaging 15 hours.
Preparedness is Key to Protecting Your Family and Home During a Power Outage
Take inventory of items you need that require electricity, including security systems and medical devices. Speak to your medical profession about a back up plan for medical devices requiring electricity and medications requiring refrigeration. 
Avoid carbon monoxide poisoning by installing carbon monoxide detectors with battery backup in central locations on every level of your home and by operating portable generators outdoors and at least 20 feet away from windows. 
Weather is the leading cause of power outages in the U.S. Sign up for local weather alerts and follow your local news providers to stay up-to-date on weather systems impacting your area. Take two minutes to watch preparation tips for every season and type of disaster from meteorologist Cheryl Nelson, Disaster Preparedness Advisor for Cummins.
Create a disaster prep kit for each member of your family to ensure their safety and comfort during a power outage. A basic kit should include bottled water, non-perishable food and battery-powered flashlights. 
Consider purchasing a home generator to ensure vital medical equipment and appliances like sump pumps stay on during a power outage.
A home standby generator like the Cummins Quiet Connect Series turns on automatically the moment an outage occurs to power your entire home or just select appliances, based on your power needs and budget. For families with basic power needs or minimal risk of power outage, a Cummins Onan portable generator may be the right choice. Use our online generator size calculator to understand how much power your family needs.
For more power outage safety tips, check out our weather prep tips page. And visit homegenerators.cummins.com to learn more about backup power options for your home, including criteria for determining whether a portable or standby generator is the right choice for your needs and an online calculator to help you understand how much power your family consumes. 
References: 
1 U.S. Department of Labor, Bureau of Labor Statistics. (2019, June 19). American Time Use Survey Summary. [Report]. Retrieved from https://www.bls.gov
2 U.S. Energy Information Agency. (2018, Nov 30). Average U.S. electricity customer interruptions totaled nearly 8 hours in 2017. [Article]. Retrieved from https://www.eia.gov/
3 Tuohy, D. (2017, Nov 3). Top 5 Power Outages in New Hampshire. [Article]. Retrieved from https://www.nhpr.org/
4 National Weather Service. (n.d.). Historical Monthly Snowfall - Burlington, VT. [Data Table]. Retrieved from https://www.weather.gov/ 
Do you like this post?