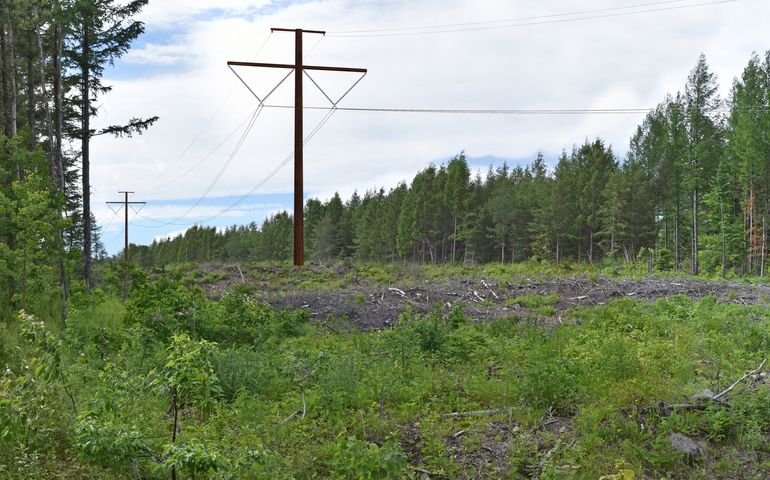 COURTESY / NEW ENGLAND CLEAN ENERGY CONNECT 
By Staff
While a legal battle continues over the future of New England Clean Energy Connect, Central Maine Power Co.'s planned 145-mile electricity transmission corridor through the western part of the state, construction of the line has already gotten underway.
Workers on Tuesday raised the first of 829 utility poles that will carry renewably produced hydropower from Hydro-Quebec in Canada and deliver it to the New England power grid via a junction in Lewiston.
Nearly 300 Mainers have been hired to work the corridor's construction, with Pittsfield-based Cianbro Corp. and other local contractors planning to hire hundreds more, according to project officials.
CMP and its parent, Connecticut-based Avangrid Inc. (NYSE: AGR), have said the $950 million project will create more than 1,600 jobs during the two-and-a-half-year construction period. NECEC will include $200 million in upgrades to Maine's energy grid, making electricity service more reliable, according to CMP.
About two-thirds of the corridor will follow existing power lines created for the state's hydroelectric industry almost a century ago. But there has been controversy over a 53-mile stretch that would be built on working forest land between the Quebec border and the Forks in Maine.
The 1st U.S. Circuit Court of Appeals last month said it will review a request by the Sierra Club, Natural Resources Council of Maine and Appalachian Mountain Club to overturn a previously issued permit from the U.S. Corps of Engineers for the project. The groups appealed the decision of the U.S. District Court for Maine denying the request, and the Circuit Court injunction bars construction for while the appeal is pending.
The groups claim the Corps of Engineers did not fully assess the environmental impacts of the corridor, as it did for similar projects in Vermont and New Hampshire. The lawsuit, filed in November 2020, challenges the Corps' Environmental Assessment and "Finding of No Significant Impact."
NECEC opponents have also mounted a citizens referendum initiative that, if approved in a November election, could block construction of the corridor.
Do you like this post?